You got your adrenaline pumping from jet skiing with Xtreme H20, and now it's time for some rest and relaxation.  No problem! Destin has the best beaches to relax on. Destin is a hot spot for tourists due to its miles and miles of gorgeous, crystal-white sand beaches with clear turquoise water. You can't get any closer to paradise in the Southeast region than Destin's shores. Here are some Emerald Coast favorites:
Henderson Beach State Park
Walk up the boardwalk over the sand dunes to one of Florida's best locations – the Henderson Beach State Park. Henderson Beach State Park stretches out over 200 acres of Gulf Coast – with the most enticing white sand and gorgeous warm waters to soak in. It's definitely great for nature lovers – explore the 30-foot coastal dunes and various hiking trails. Lucky beachgoers may catch a glimpse of native wildlife such as dolphins, tropical fish, loggerhead, and green sea turtles
Henderson Beach State Park was established for the preservation and protection of the area's natural features and is the last remaining coastal scrub area in Destin. It boasts beautiful campsites and is a perfect place for weddings and family reunions. The beach can be accessed at 17000 Emerald Coast Parkway, and $8 covers the cost of parking.
Miramar Beach
The Emerald coast boasts some of the clearest waters in the US, and Miramar beach is no exception. Miramar, which means "viewing the sea" in Portuguese, is a tourist favorite. Some of the best surf shops and favorite restaurants dot the scenic roadways, as well as beachfront hotels and condos. Jet skiers and parasailers flock there for adventurous activities. The area is great for shopping as well, from outlet malls to stores like Williams Sonoma and Anthropologie.
Miramar has many amenities and conveniences for vacationers. The regional beach access has parking, ADA-accessible restrooms, and a flag indicating the current surf conditions each day. Between March and September, there is a lifeguard on duty. Regional Beach access can be found at 2396 Scenic Hwy 98, Miramar Beach, FL 32550. 
Okaloosa Island
Lying between Fort Walton and Destin is Okaloosa Island, where you get the classic feel of a beach town with its sprawling boardwalk and fishing pier. The fishing pier, which stretches about 1,262 feet long, is a great way to test out your fishing skills by catching a Spanish mackerel, whiting, or bluefish. The pier will provide a license to whoever pays the daily fishing fee. The pier will provide rods, cut bait, and tackle rentals at an extra cost. The Okaloosa Island boardwalk has great views and spectacular food, and there's no shortage of great dining and entertainment.  Head to the Gulfarium nearby for dolphin shows, or Wild Willy's Adventure Zone for some family fun. Grab something fresh at Floyd's Shrimp House or Rockin Tacos. If you're feeling leisurely, enjoy a picnic or play volleyball with the fam.
The pier can be found at 1030 Miracle Strip Pkwy SE, Fort Walton Beach, FL 32548, and the boardwalk at 1450 Miracle Strip Pkwy SE, Fort Walton Beach, FL 32548.
James Lee Beach
If you're trying to avoid crowds, then James Lee Beach is an ideal location. Located near Destin Commons and Crab Trap restaurant, the beach has plenty of free parking, picnic areas, and shaded pavilions. Locals and tourists come to paddleboard, surf, and kayak.  It has great amenities such as restrooms with changing stations and outdoor showers. The shallow waters and low-key nature makes it a great beach for families. To top that, there's also a playground. You can find James Lee Beach access at 3510 Scenic Highway 98 Destin, FL 32541.
Crab Island
Crab Island is a much-talked-about locale, garnering national attention on shows like HGTV and Good Morning America. It's not actually an island, but a man-made sand bar. Its shallow waters make it perfect for many aquatic activities, reaching only 1-4 ft deep in most places. Pontoon boats are the most popular way to reach the "island", as it's known as the "Pontoon boat capital of the world. You'll need one to access it, or you can take the shuttle, but where's the fun in taking a shuttle? Xtreme H2O has some of the best pontoon boats in the city. It's BYOB, and you'll see people floating around amongst some floating restaurants and inflatable obstacle courses. It's definitely one of the more unique spots in Destin!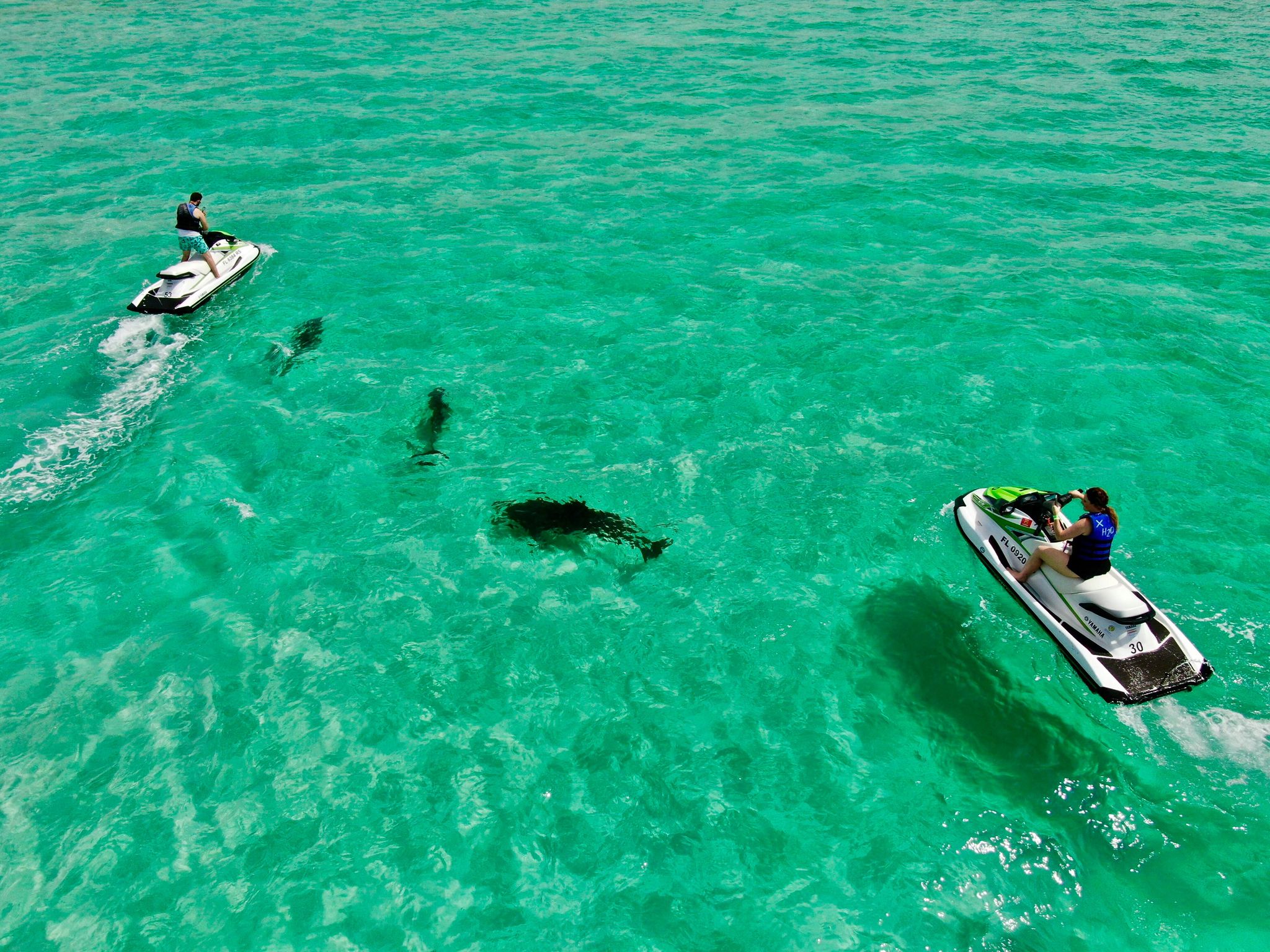 These are just some of our favorite spots in the Destin-Fort Walton Beach area. You're bound to find more that are just off the beaten path, but our top five are a must-see for anyone traveling to the area. So head on over to Xtreme H2O, rent a jet ski, then kick back and relax at one of the many beaches in Destin.
If you're looking for some food after your day at the beach, head on to our boardwalk restaurant guide.