Destin, Florida is a beautiful peninsula in Northwest Florida surrounded by the Destin Harbor, Gulf of Mexico, Choctawhatchee Bay and several bayous and canals. And no trip to Destin is complete without exploring via waterways!
Xtreme H2O Sports has several locations in Destin offering Jet Ski rentals as well as a Jet Ski guided Dolphin Tour. Open year-round, Xtreme H2O is your "go to" for all things fun on the water. Our location on Calhoun Avenue at Destin Marina (next to the original Dewey Destin Seafood Restaurant) is our premiere Jet Ski spot as it's closest to the no-wake zone past Crab Island.  This is ideal as most rentals come out of the Destin Harbor making your idle time up to 30 minutes! We have compiled a list of frequently asked questions regarding renting Jet Skis for you to consider on your next trip to Destin. 
 Jet Ski Rentals F.A.Q.
Jet Skis are fun and safe for ages 5 and up.

We require lifejackets for the duration of your Jet Ski rental (they are included in your rental fee).

Our Jet Skis technically have 3 seats but they will not accommodate three adults.

The maximum weight capacity (combined weight) is 400 pounds.

Minimum age to rent a Jet Ski is 18 years.

There is a dry compartment on the front of the Jet Ski for your phone and limited belongings.

Minimum age to operate a Jet Ski is 16 years. Minors will need parent/ guardian signed waiver and equipment will need to be rented by an adult for the minor to operate (adult will be financially responsible during the rental).

A government issued photo identification card is required to rent a Jet Ski in Florida.

The State of Florida requires anyone born after January 1, 1988 to complete, and pass, a boaters safety course.

Xtreme H2O Sports does not permit our Jet Ski rentals to enter the Gulf of Mexico, unless it is with our Dolphin Tour.

Jet Skis do not include anchors, so they are not permitted at Crab Island.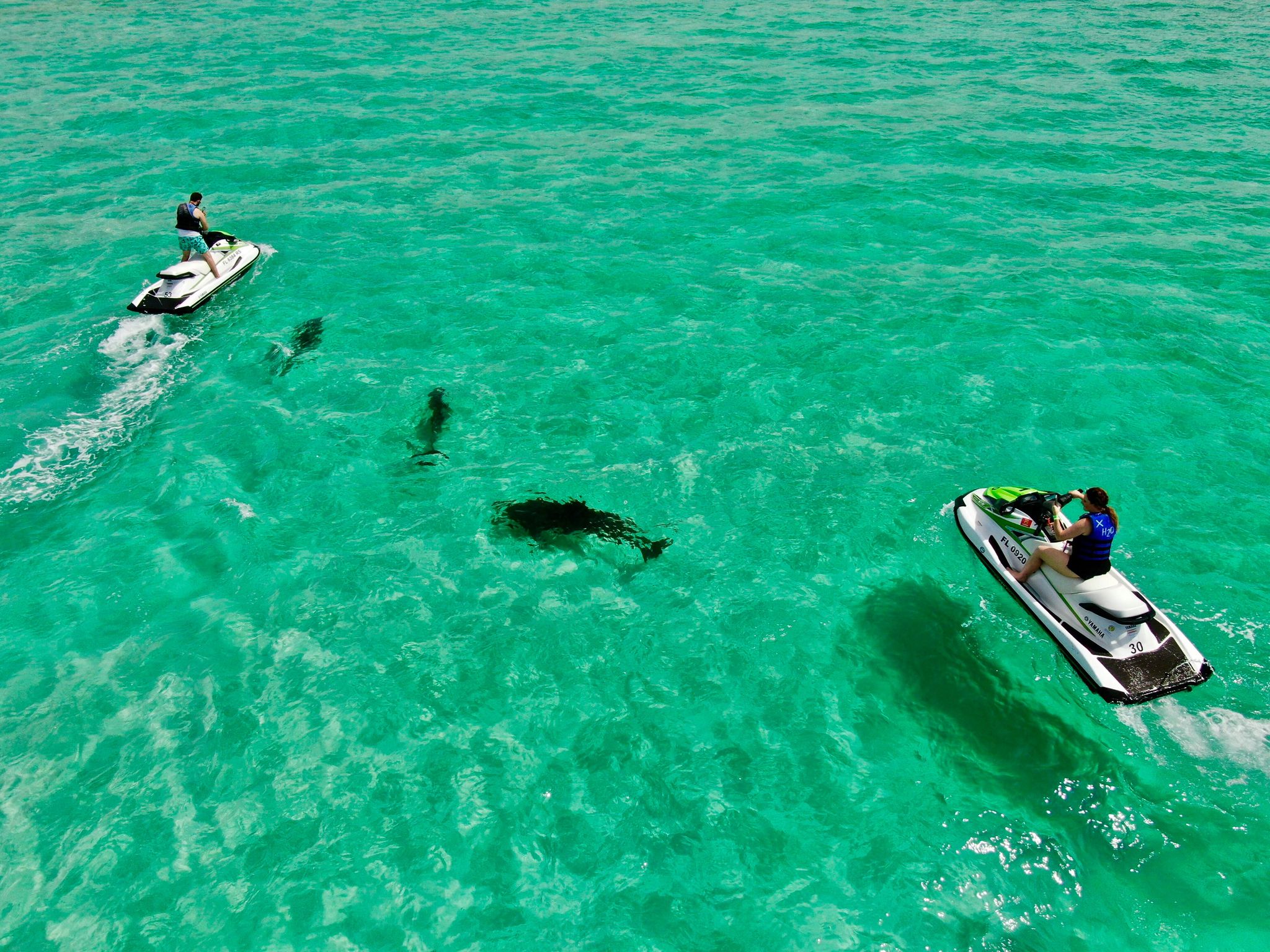 The state of Florida and the Florida Wildlife Commission requires everyone born after January 1, 1988 to complete and pass the Florida boater's safety course to operate any watercraft in the state. All operators required to have the boater license may opt for either the lifetime or temporary Florida Boater License.  Please go to our website to take the test online before your rental reservation.  We recommend the online test, however Xtreme H2O Sports does offer the temporary boater license test on site – but be sure to allow up to an hour for thorough study and testing time. Unfortunately, customers that fail the written temporary boaters safety course are unable to retest for 24 hours, by law. The online test does not have any limitations for numbers of times you can take the test. Click here for the test.
Xtreme H2O Sports offers a daily Dolphin Tour via Jet Skis guided by our crew. Scheduled every morning (weather permitting) for an hour and a half. The first hour is with our crew member guiding the group of wave runners to explore the bay, Destin Harbor, bayous and sometimes the Gulf of Mexico to discover dolphins and other sea-life. This excursion is perfect for the beginner jet ski rider or advanced rider and the last 30 minutes of the activity is "free ride" for everyone to go off on their own! 
Jet Ski rentals are available with Xtreme H2O Sports year-round staring at 30 minute duration to an all day rental. Please give us a call at (850) 978-3060 or check out our website for more information.